Seventy-three Foss Vessels Receive 2013 Jones F. Devlin Safety Awards
Foss winners boast up to twenty years without a lost-time injury
SEATTLE, June 5, 2013— The Chamber of Shipping of America (CSA) has recognized Foss Maritime's commitment to safety by awarding 73 vessels for outstanding safety records.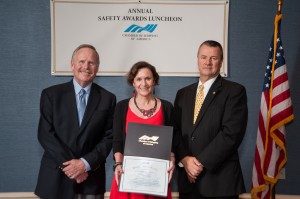 The 73 Foss vessels were recognized as 2013 Jones F. Devlin award winners at the CSA Annual Safety Awards Luncheon held this year on May 29th in New Orleans. The award is given to self-propelled merchant vessels that have operated for two full years or more without a crewmember losing a full turn at watch because of an occupational injury. The Jones F. Devlin award publicly recognizes the skills and dedication of the men and women who are responsible for those safe vessel operations.
Altogether, the Foss vessels achieved the equivalent of 483 years without a lost-time injury.
"Safety is part of our operational culture and in everything we do," said Paul Stevens, Foss president and CEO. "We're very proud of our program, training, resources and operations. The men and women of Foss, who work hard to earn us this recognition, are our greatest asset and their safety and wellbeing are our highest priority."
Of Foss' 73-awarded vessels, 57 achieved five or more years of incident-free operation, with 10 of those vessels attaining ten or more years.
###
ABOUT FOSS MARITIME
Founded in 1889, Seattle-based Foss Maritime – which celebrates its 125th year this year – offers a complete range of maritime services and project management to customers across the Pacific Rim, Europe, South America and around the globe. Foss has one of the largest fleets of tugs and barges on the American West Coast. The company has harbor services and transportation operations in all major U.S. West Coast ports, including the Columbia and Snake River system, Hawaii and Alaska. Foss operates two shipyards and offers worldwide marine transportation, emphasizing safety, environmental responsibility and high-quality service. See www.foss.com for more information.
ABOUT THE CHAMBER OF SHIPPING OF AMERICA
The Chamber of Shipping of America represents 31 U.S. based companies that own, operate or charter oceangoing tankers, container ships, dry bulk vessels engaged in both the domestic and international trades and companies that maintain a commercial interest in the operation of such oceangoing vessels. Current members include companies that own or operate U.S. flag or foreign-flag ships. A company owning or operating only foreign-flag tonnage must have an office in the United States to qualify for membership.