Resource Hub
The Foss Resource Hub provides a one-stop library for our most pertinent information. If you cannot find the information you seek within, please contact us for further information.
Rate Sheets
Foss provides services to its customers according to the rate sheets within. To discuss additional information, please contact your regional representative for further rate details for special projects or requests.
Our Fleet
Foss Maritime is dedicated to industry innovation and creative solutions. From introducing the first tugboat launches in Tacoma in the late 1800's to diesel tugboats and developing the first Tractor tugs and one‐of‐a‐kind hybrid tugs. Foss has been focused on optimizing our fleet from the very beginning. We continue to build, design and add state-of-the-art vessels to our powerful fleet and most recently added three ASD-90 Tier 4 tugs which meet the EPA's highest emissions standards.
Featured Projects
Foss is proud to serve our global community with specialized maritime services. From providing disaster relief efforts in the United States, Haiti and Puerto Rico and emergency rescue towing to most recently towing a decommissioned Navy vessel from the U.S. West Coast to Texas via the Panama Canal. During the initial months of the COVID-19 pandemic in 2020, Foss assisted the USNS Mercy ship into to the Port of Los Angeles to serve as a backup hospital for the city of Los Angeles.
Safety Information
Our safety culture has now progressed to the point where we are tracking our incident free time in months, not days. We provide frequent reports on the ever-growing number of Job Safety Analyses, Near Misses and Safety Observations that are being reported every day. We have multiple Regional Safety Committees that provide another venue to support our push to zero initiatives, and we continually review and discuss notable near misses and observations, safety alerts and safety bulletins.
The Foss Family
AmNav are certified by both domestic and international quality and safety standards, including:

Cook Inlet Tug & Barge are certified by both domestic and international quality and safety standards, including:
Young Brothers are certified by both domestic and international quality and safety standards, including: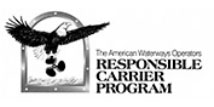 Why Foss?
Our mission it to provide maritime services without equal and unsurpassed customer service. Foss is the premier brand in harbor services on the U.S. West Coast. Additionally, as a Saltchuk company, Foss can delivery multi-conveyance logistics solutions in Alaska, the U.S. West Coast, the Caribbean, Gulf of Mexico and project logistics worldwide.
From containerized cargo movements to just in time air freight, energy distribution, and marine solutions to the most remote locations and harshest environments. A Saltchuk company can provide any solution.