Foss Maritime was founded 130 years ago with the purchase of a single rowboat. Since then, Foss has grown to become the premier provider of harbor towing on the U.S. West Coast – dedicated to developing the best transportation solutions and driving industry innovation. Over the past year Foss has been focused on expanding its fleet to better serve customer demand, through the addition of new ASD-90 tugs, new Kāpena Class tugs in Hawaii, and the new assets for use along the North Slope in Alaska.
Next Generation of Tugs
The construction of the first of four ASD-90 tugs is currently underway at Nichols Brothers Boat Builders (NBBB) of Freeland, WA on Whidbey Island. Designed by Jensen Maritime Consultants of Seattle, and based on Jensen's Valor tugboat design, the vessels will meet Tier IV standards, using high-efficiency catalytic after-treatment technology to reduce emissions. The Z-Drive Tractor tugs will be built to United States Coast Guard Subchapter "M" regulatory standards, with ABS loadline certification, and UWILD notation. The vessels will be equipped with two MTU series 4000 main engines, Rolls-Royce US255 azimuth thrusters and Markey winches. The vessels will also include condition-based monitoring for the Z-drives and main engines.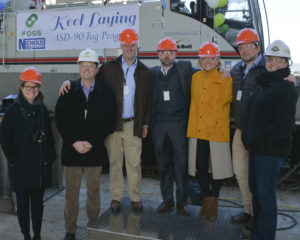 By introducing new tugs to our fleet and cycling older vessels out, Foss will be able to optimize harbor fleet size and meet current customer demand; reduce charter, maintenance, and repair expenses; improve vessel reliability; and increase asset use.
The 100-foot by 40-foot ASD-90 tugs are multi-functional to include ship assist and escort capabilities as well as towing. Additionally, Jensen designed the tugs with some of the most advanced safety features in the industry, including 900 GPM fire pumps and monitors, which will be powered from an on-board generator.
Foss plans to operate the tugs on the U.S. West Coast, performing ship-handling duties within ports and harbors. Delivery of the first four vessels will begin in the winter of 2020, with the option of adding six additional vessels in the future.
The ASD 90 program is the latest Foss initiative to expand and strengthen its fleet, which has also included the ongoing construction of the Kāpena Class vessels for Foss subsidiary Young Brothers, and the acquisition of four new nearshore vessels for Foss subsidiary Cook Inlet Tug & Barge.
Expanding the Hawaiian Fleet
In August of 2018, the first of four new ocean-going tugs Kāpena Jack Young, was delivered to Young Brothers – an independent subsidiary of Foss Maritime, with three more identical tugs to be delivered over the course of 2019.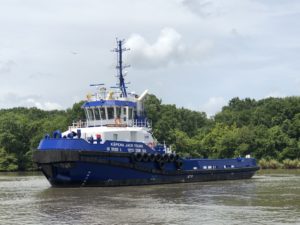 Designed by Damen USA, and built by Louisiana-based Conrad Shipyard, the new twin-screw tugs are 123-feet in length with a 36.5-feet beam and powered by G.E. 8L250 engines rated at 6,000 horsepower. Kāpena Class tugs are designed for high stability and maneuverability. The tug has a maximum bollard pull in excess of 83 metric tons and a top speed of 12.5 knots. In addition, the tugs are EPA Tier 4 compliant – the first tugs in Hawaiian waters to meet the new requirements, and substantially reduced emissions.
Kāpena means "captain" in the Hawaiian language, and the name for the new class of tugs celebrates the skill and innovation of Young Brothers' Hawaiian navigators. The Kāpena Jack Young is named after Captain Jack Young, one of four brothers who founded Young Brothers in 1900. Each of the four new Kāpena class tugs will be named after an original Young Brothers' captain, including Kāpena George Panui Sr. and Jr., Bob Purdy, and Raymond Alapa'i.
The new class of tugs are designed to match Young Brothers' fleet of modern high capacity barges, and will improve the company's ability to provide "just-in-time" cargo service to Neighbor Island communities, while enhancing service through lower maintenance down time, better tow speeds, greater operating efficiencies, and lower emissions.
Asset Acquisition to Support Alaska's Growth
Early in 2019 Foss completed the purchase of all of Crowley's Prudhoe Bay, Alaska assets – including tugs, barges, heavy machinery and other vehicles and equipment. All assets are in excellent condition and have spent their entire operating years on the North Slope. The shallow draft design of the vessels makes them ideal to service the North Slope and Western Alaska markets.
Cook Inlet Tug & Barge plans to use the additional assets to enhance its cargo services, and streamline its operation through focusing on marine equipment and partnering with established shore side service providers in Prudhoe Bay.
In addition to the new assets, The Campbell Foss was recently transferred to her new home in Anchorage, Alaska. The powerful diesel-electric hybrid tug enter service under the blue and white colors of the Cook Inlet Tug & Barge fleet after being renamed the Bering Wind.
The Bering Wind is powered by two Series II Caterpillar engines and twin Rolls Royce US 205 FP Z drives, is rated at 5,080 horsepower, and has more than 135 tons of pulling power. Her diesel-electric hybrid service is provided on one 125 kilowatt Marathon generator set.
The addition of the Bering Wind to the Anchorage-based fleet will improve the current level of service in the Port of Anchorage, and ensure safe operations can be continued during the anticipated Port revitalization project, which will commence in spring of 2019.